The James Aronson Award for Social Justice Journalism &
The James Aronson Undergraduate Journalism Award
Hunter College undergraduate journalists are invited to enter their work in the James Aronson Undergraduate Journalism contest.
The winner will receive $200 and will be recognized as part of the ceremonies for the James Aronson Award for Social Justice Journalism, a contest for professional journalists.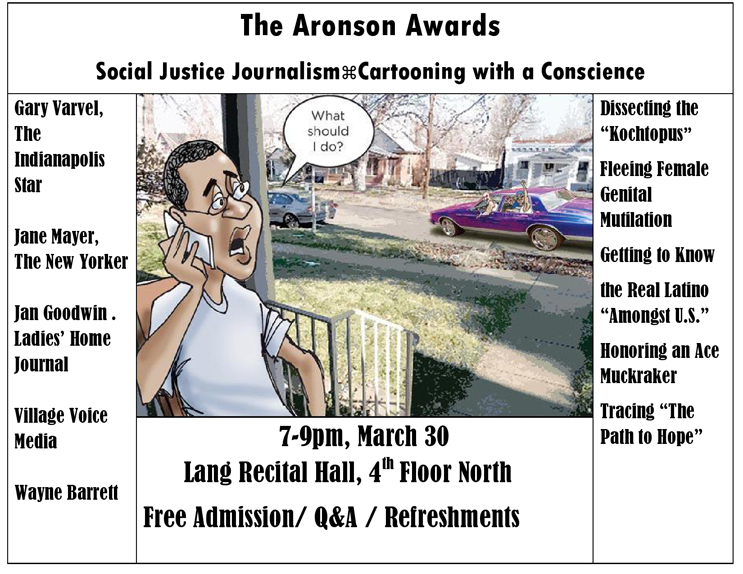 The award ceremony will take place from 7-9 p.m., Wednesday, March 30 in the Lang Recital Hall, Fourth Floor, Hunter North.
The contest is open to Hunter College students, who publish on or off campus. It is not necessary to be a media studies major.
Submit a portfolio of  five clips, a resume and letter introducing yourself and discussing how journalism figures in your goals and interests.
Stories will be judged for thorough sourcing, concise, vivid writing and effective structure. Pursuing social justice themes is a plus but overall professionalism is the fundamental quality judges will assess.
The winner speaks briefly at the award ceremony and joins the professional Aronson Award members in a panel discussion and Q&A session.
The deadline is noon, Monday, March 14. Place materials in the mailbox of Peter Parisi in the Film & Media Studies department office (433B Hunter North). If stories are available online, provide URLs.
For more information, contact Prof. Peter Parisi 529 North, e-mail pparisi@hunter.cuny.edu.