The Aronson Awards for Social Justice Journalism and Cartooning with a Conscience Awards Ceremony
Tuesday, April 30, 2013
6:30 PM
Lang Recital Hall, 4th floor, Hunter College North Building
Free & open to all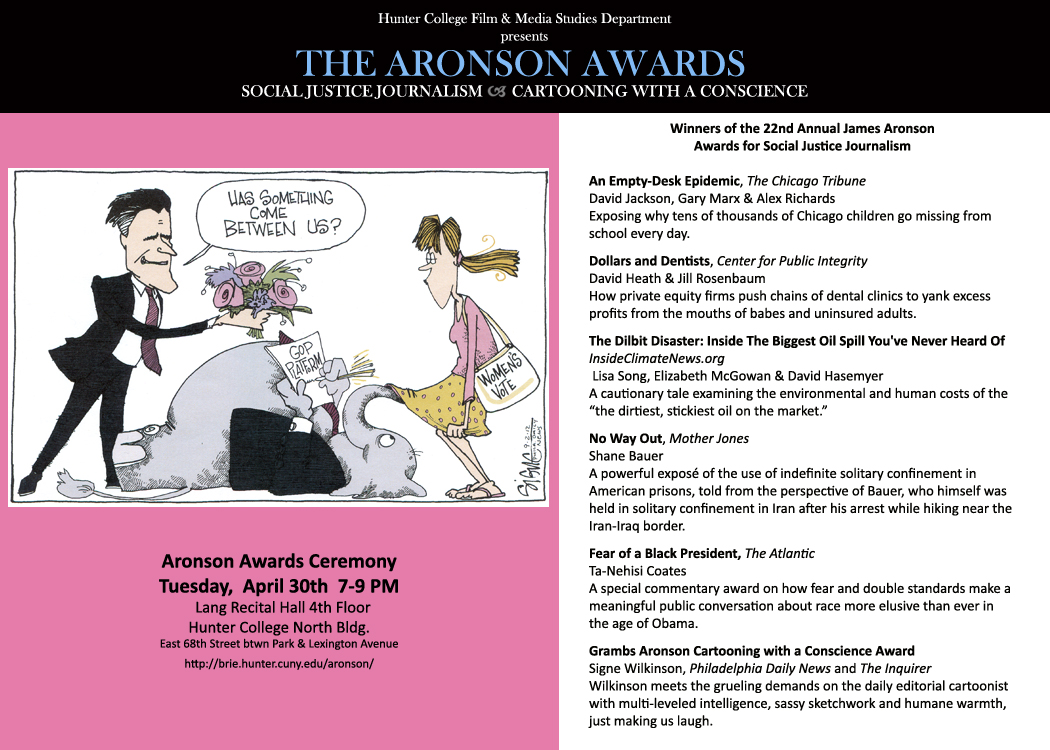 The James Aronson Awards for Social Justice Journalism invites you to the annual Awards Ceremony. This exciting event honors journalists who are committed to exposing discrimination based on race, class, gender, religion or sexual orientation; economic exploitation; violations of human rights, civil liberties and free expression; environmental degradation; and brutality to civilians in war.

The awards recognize work published in newspapers, magazines, newsletters, text-based online publications and cartoonists. Previous winners include journalist John Nichols of The Nation; Jim Morris and Chris Hamby for their investigation of weak factory inspections that gravely endanger workers; Anthony Cornier and Matthew Doig for their investigative reporting exposing the corrupt police system in Florida; the New York Times reporters Danny Hakim and Russ Buettner for uncovering the mistreatment of the disabled in New York State Institutions.
On April 30th, the 2013 winners will share the story behind their powerful investigations with us.
James Aronson Awards for Social Justice Journalism is sponsored by Hunter College Department of Film & Media Studies and an Awards Committee of journalists and media critics.