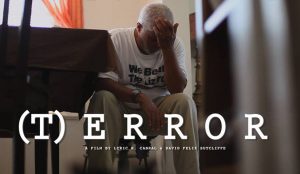 The IMA student group Eyespeak is hosting a screening of the documentary film (T)ERROR at the Lang Theater/HN424 on Friday, November 11 at 7 p.m. Co-director Lyric Cabral will be in attendance for a Q&A following the film.
(T)ERROR is an amazing work of journalism and verite cinema that interrogates the often unseen costs of living in a surveillance state. It won the Special Jury Prize at Sundance along with the Grand Jury Prize at Full Frame, among other awards. Here's a brief synopsis:
Saeed "Shariff" Torres, a counterterrorism informant for more than two decades, takes on what he swears is his last job for the FBI and invites filmmakers to follow his covert efforts to befriend a suspected jihadist – without informing his superiors. As surprising revelations emerge, not only about Torres' past, but also about the increasingly murky ethical grounds of his present mission, (T)ERROR explores just how far we are going to prevent terror and exactly what liberties we are sacrificing to get there.
Lyric Cabral is a New York-based filmmaker and photojournalist who documents stories seldom seen in mainstream media. In support of her verité work. In 2013, Cabral was named by Filmmaker Magazine as one of the "25 New Faces of Independent Film." Her photography has been recently published through Aperture Foundation, National Geographic Channel UK, the Nation, and the Village Voice, and is currently on exhibition with "Gordon Parks: The Making of an Argument."