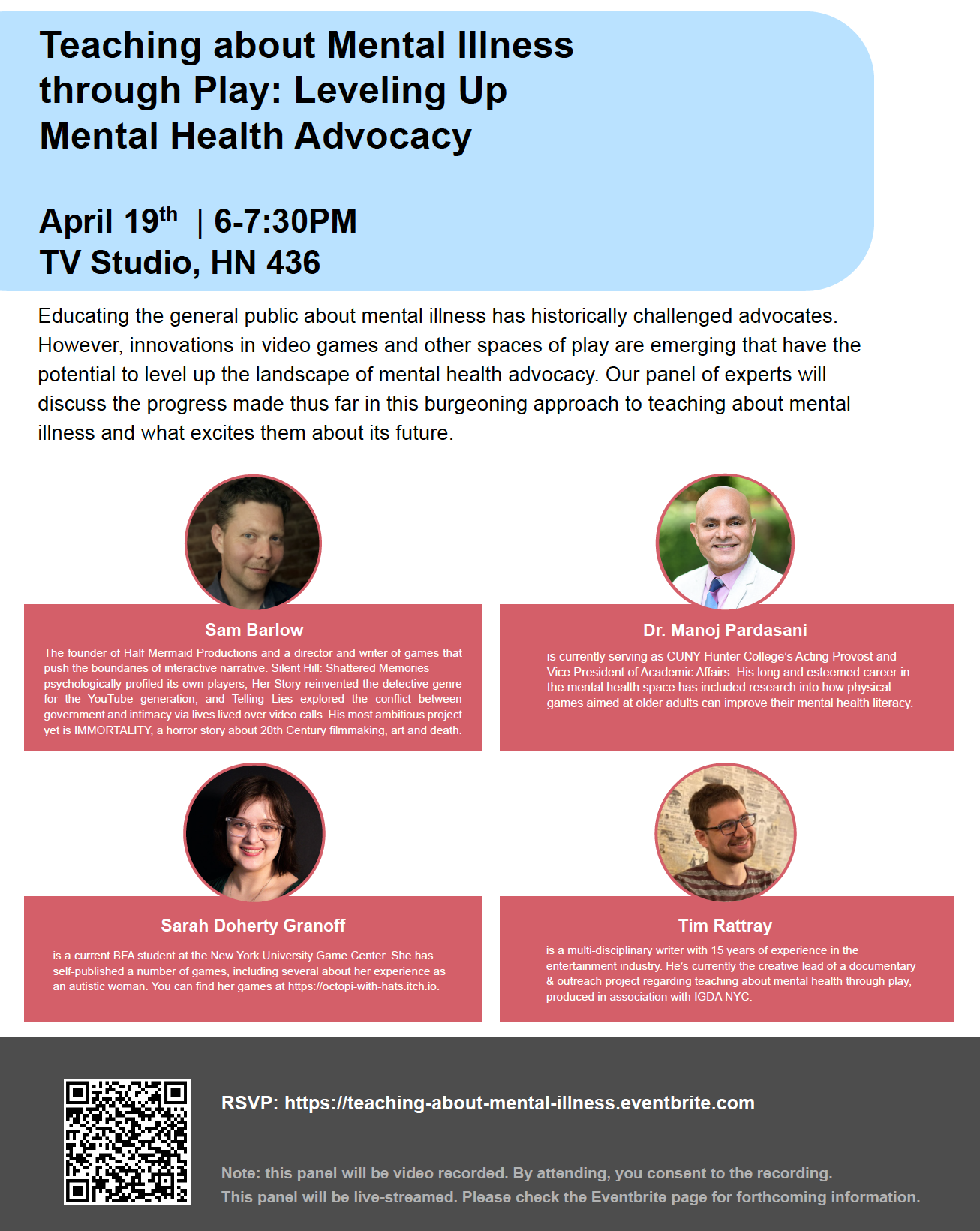 Apr. 19 | 7:30PM | TV Studio (HN 436)
RSVP | Free & Open to the public.
Educating the general public about mental illness has historically challenged advocates. However, innovations in video games and other spaces of play are emerging that have the potential to level up the landscape of mental health advocacy. Our panel of experts will discuss the progress made thus far in this burgeoning approach to teaching about mental illness and what excites them about its future.
Bios:
Sam Barlow is the founder of Half Mermaid Productions and a director and writer of games that push the boundaries of interactive narrative. Silent Hill: Shattered Memories psychologically profiled its own players; Her Story reinvented the detective genre for the YouTube generation, and Telling Lies explored the conflict between government and intimacy via lives lived over video calls. His most ambitious project yet is IMMORTALITY, a horror story about 20th Century filmmaking, art and death.
Sarah Doherty Granoff is a current BFA student at the New York University Game Center. She has self-published a number of games, including several about her experience as an autistic woman. You can find her games at https://octopi-with-hats.itch.io.
Dr. Manoj Pardasani is currently serving as CUNY Hunter College's Acting Provost and Vice President of Academic Affairs. His long and esteemed career in the mental health space has included research into how physical games aimed at older adults can improve their mental health literacy.
Tim Rattray is a multi-disciplinary writer with 15 years of experience in the entertainment industry. He's currently the creative lead of a documentary & outreach project regarding teaching about mental health through play, produced in association with IGDA NYC.