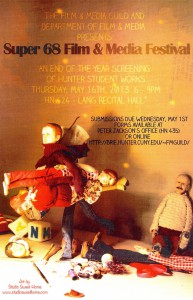 Submissions for the Super 68th Film & Media Festival
You can pick up a submission forms on the bulletin board located across Hunter North 435 (Peter Jackson's office) and can be dropped off at Hunter North 435 (Peter Jackson's office) in The Yellow Envelope Monday-Friday from 10AM-8PM and Saturday's 11AM-3:30PM. Below are some guidelines that are on the submission sheet. The Film & Media Guild look forward to seeing your submissions! and don't forget to Spread the word!!

FILM:
– TRT for films; no longer than 10 Minutes including credits.
– Please PLEASE remember to submit TWO copies one WITH credits and one WITHOUT credits for judging purposes.
– submit it as a self contained .mov file written to a DVD data-disk.
MEIDA:
POSTER
– Digital .png file by flash drive or CD as well as a High quality print
WEBSITE
– Root folder as well as all necessary sub-folders by flash drive or CD
SUBMISSION DEADLINE IS WEDNESDAY MAY 1, 2013 AT 8:35PM!!!!!
If you have any further questions please e-mail us at:
HunterFMGuild@gmail.com