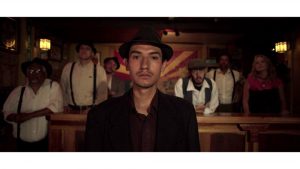 Tues., Sept. 4th | 5:30PM Refreshments
Presentation begins at 6:30PM
Lang Auditorium (HN424)
(entrance at 69th Street between Lexington and Park Avenues)
Free and Open to the Public
Please join us for an intimate conversation with Sundance award winning director Robert Greene, historian Katherine Benton Cohen (Georgetown University) and film scholar Joe McElhaney (Hunter College). We will show clips from Greene's 2018 documentary, Bisbee '17, which explores an eccentric Arizona mining town's efforts to come to terms with its darkest moment. Radically combining documentary and genre elements, the film follows several members of the close knit community as they collaborate with the filmmakers to commemorate the 100th anniversary of the Bisbee Deportation, where 1200 immigrant miners were violently taken from their homes by a deputized force, shipped to the desert on cattle cars and left to die.
"Bisbee '17 is a fierce, lyrical probe into the soul of a town haunted by a history it would rather forget." – Vox
Sponsored by the Department of Film and Media Studies and the Integrated Media Arts MFA Program, Hunter College (CUNY)