Today LGBT people are far more likely than any other minority group in the United States to be victimized by hate crimes. Through telling the story of a violent hate crime in a LGBT bar, Puzzles explores the connection between joblessness, homophobia, intolerance, and, ultimately, violence.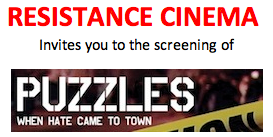 " . . . deeply human exploration of the roots of hate violence and how a horrendous crime becomes a catalyst for a community to reach out for greater understanding and connection."
Barbara Abrash — Center for Media, Culture and History – NYU
Sunday October 6, 2013 1:15 pm
Community Church NY Gallery Room
28 East 35th St. btwn Park & Madison Aves.
New York City
Free, donations appreciated.