Zoom Reception: Weds. July 21st | 4:30-6:30PM  | RSVP
You may also enter the exhibition now, it is composed of four galleries:
https://newart.city/show/nfs-nsfw-nft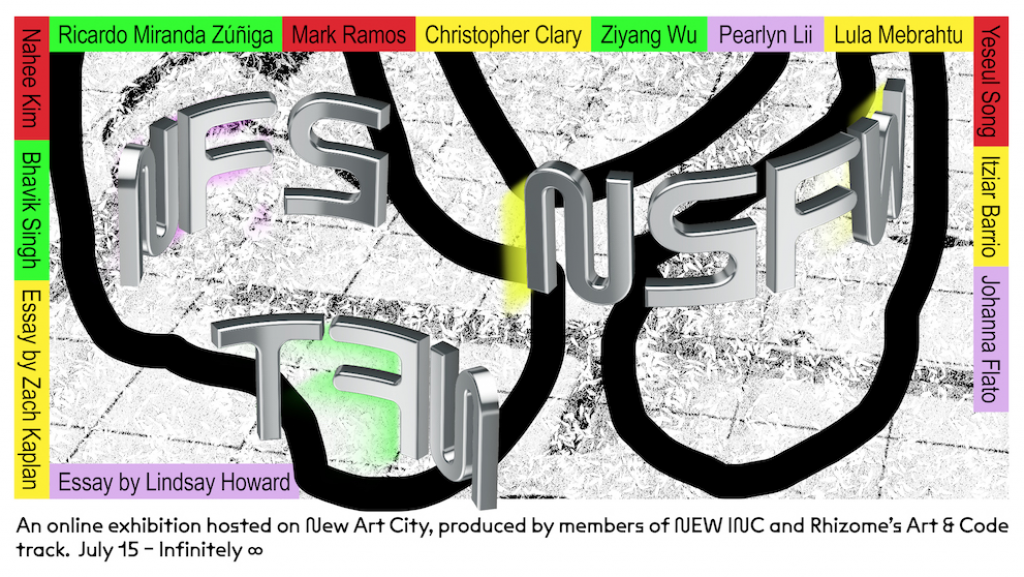 NFS NSFW NFT is a 3D virtual exhibition produced by members of NEW INC and Rhizome's Art & Code track. The exhibition is on New Art City, hosting a Zoom opening, minting a NFT on Foundation, and closing with a panel at Hunter College — all, to explore the critical poetics of this particular not-for-sale, not-safe-for-work, and non-fungible-token moment. The exhibition is composed of three galleries:
The NFS garden is skinned with cryptocurrency symbols and animations. Featuring work from Ricardo Miranda Zúñiga, Mark Ramos, and Bhavik Singh.

The NSFW garden is skinned with community rules and blurred graphics that platforms use to police adult content. Featuring work from Itziar Barrio, Christopher Clary, Nahee Kim, and Pearlyn Lii.
The NFT garden is skinned with graphics that corporations use to illustrate the blockchain. Featuring work from Johanna Flato, Lula Mebrahtu, Yeseul Song, and Ziyang Wu.