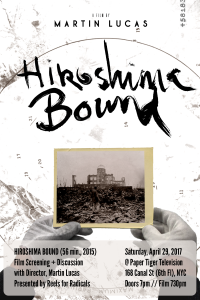 HIROSHIMA BOUND (56 min., 2015)
Screening + Discussion with Director, Martin Lucas
Saturday, April 29, 2017
Paper Tiger Television
168 Canal St (6th Fl), NYC
Doors @ 7PM // Film @ 730PM
https://www.facebook.com/events/1049290431838775
*An RSVP is not needed to attend*
FREE! *Donations Welcome*
Presented by Reels for Radicals.
"It's my bomb… It's been waiting for me for sixty years."
HIROSHIMA BOUND is a haunting hour-long essay-style interrogation of the traumatic mix of memory and amnesia that constitutes America's understanding of the bombings of Hiroshima and Nagasaki, built from a mix of re-examined archival material, survivor testimony, personal meditation and visits to sites including The Lawrence Radiation Laboratory at Berkeley, White Sands Missile Proving Grounds, and the International Center of Photography in New York.

The image of the mushroom cloud has always been a black hole, a destroyer of meanings. 70 years later, how can we see Hiroshima?
This screening and discussion will offer a chance to think about how documentary can help dislodge collective memory from mythic confinement, and offer a vehicle for an exploration of how the ghosts of many pasts still inhabit our lives.
For more info: hiroshimabound.com
MARTIN LUCAS is a media artist and educator. Since his first film, Tighten Your Belts, Bite the Bullet (New York Film Festival, 1980) he has examined social injustice as it is embedded in cultural and technological systems of communications, economics and war. An early member of the Paper Tiger TV Collective, Martin was a co-producer of The Gulf Crisis Television Project (Whitney Biennial, 1993) with DeeDee Halleck, Simin Farkhondeh and Cathy Scott. His work has shown at locales including the Buena Vista Arts Center, San Francisco, the Eyebeam Art and Technology Center, New York, and the Centrum Beeldende Kunst, Rotterdam. Recent work includes Treatment Plan, a meditation on depression and vision set in the Verrazano Narrows, (Videoart.net Festival, 2011) and Cold Shutdown: Fukushima One Year After, which looks at how Fukushima residents are coping with fallout blanketing their region (Fire That Doesn't Go Out Exhibition, 2012). Martin speaks and organizes events regularly in the US and abroad on topics including media education, emerging media and social change, and documentary film. Martin teaches in the Film and Media Studies Department at Hunter College, City University of New York.
REELS FOR RADICALS is a joint screening series by Paper Tiger Television and Deep Dish TV highlighting the work of political filmmakers and creating space for critical dialogue. For upcoming films, please join the facebook group page: https://www.facebook.com/groups/reelsforradicals/ 
For past screenings and videos of discussions, please visit: http://www.deepdishtv.org/reels-for-radicals/