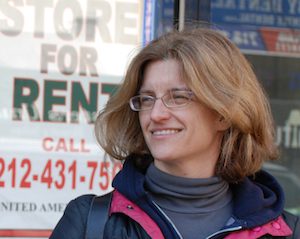 The University Film and Video Association (UFVA) and its Documentary Working Group caucus chose Professor Kelly Anderson to receive the 2017 DWG George C. Stoney Award for Outstanding Documentary Work.
The annual award honors an individual who demonstrates the values George Stoney promoted throughout his career – stories that represent the poor, the lesser known, the working class, and as a hallmark, engage social injustice themes. The award also recognizes writing as well as media advocacy work. Prof. Anderson will receive this incredible honor at the UFVA's annual conference banquet in Los Angeles this summer.
Kelly Anderson's most recent film is My Brooklyn, a documentary about gentrification and the redevelopment of Downtown Brooklyn. My Brooklyn premiered at the 2012 Brooklyn Film Festival, where it won an Audience, and it was broadcast on the PBS World series America ReFramed…read more.