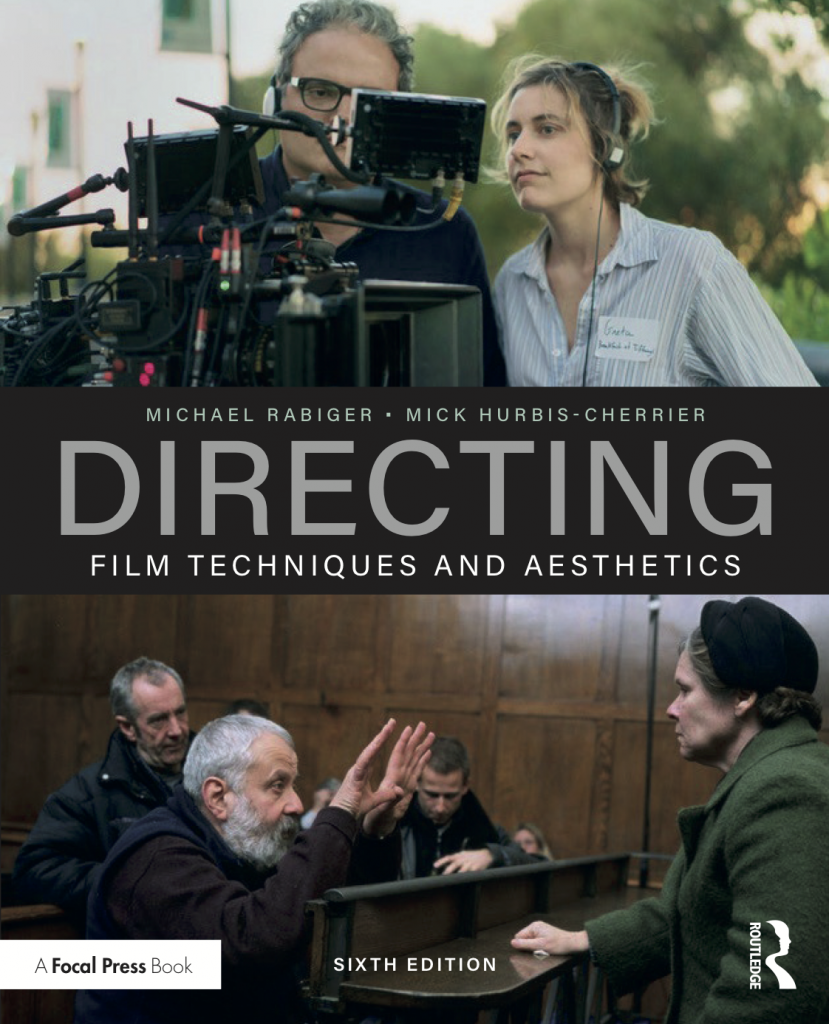 The 6th edition of Prof. Mick Hurbis-Cherrier's Directing: Film Techniques and Aesthetics has published this month (Feb. 2020; Routledge/Focal Press). Co-authored with Professor Michael Rabiger of Columbia College – Chicago (emeritus) Directing: Film Techniques and Aesthetics has long established itself as one of the standard texts in the field.
About the Book:
Directing: Film Techniques and Aesthetics is a comprehensive exploration into the art and craft of directing for film and television. It's filled with practical advice, essential technical information, and inspiring case studies for every stage of production. This book covers the methods, technologies, thought processes, and judgments that a director must use throughout the fascinating process of making a film, and concentrates on developing the human aspects of cinema that connect with audiences.
The fully revised and updated 6th edition features new sections on using improvisation techniques for story development, creating characters for long form television series, visual design and cinematic tone, the role of the digital imaging technician, film promotion and distribution, alongside expanded information on contemporary color grading tools, stylistic approaches and genre, workflows, blocking scenes for the camera and more.
Directing: Film Techniques and Aesthetics also provides an unusually clear view of the artistic process, particularly in working with actors and principle crew members. It offers eminently practical tools and exercises to help you develop your artistic identity, find credible and compelling stories, choose and work with your cast and hone your narrative skills. Directing shows you how to surpass mere technical proficiency and become a storyteller with a distinctive voice and style.
Quotes about the book:
"This is a remarkable book and an invaluable reference for directors at all levels. Not only does it thoroughly explore the essential and enduring knowledge of the craft, the human connection to storytelling, but it also shows a director how to harness modern workflows and technology for maximum creative impact. It's all there." (6ed.)
― Sameh Zoabi (writer-director, Tel Aviv on Fire; Under the Same Sun; Professor New York University)
"This terrific new edition, updating the classic, is one of the most complete manuals for directing you'll find. It gives both a broad overview and a detailed investigation of the craft; an explanation of the technology as well as an exploration of cinematic language and aesthetics. So take this guide, add your own passion for filmmaking, and you'll have a solid foundation for any movie you make." (5ed.)
― Nancy Savoca (director, Dogfight, Household Saints, 24 Hour Woman, and Union Square)
"While the basics of film aesthetics are well addressed, the value of this volume lies in its practical approach. Rabiger and Hurbis-Cherrier's first-hand experience allows them to describe the day-to-day of directing in simple, uncomplicated terms, appealing to both the novice and seasoned pro. . . The learning-by-doing method makes this across-the-board introduction accessible, practical and surprisingly entertaining." (5ed.) DGA ― Quarterly (Directors Guild of America, www.dga.org)