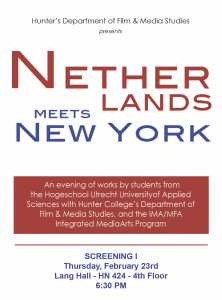 Screening I: Thurs, Feb. 23rd at 6:30PM
Screening II: Thurs, Mar. 2nd at 6:30PM
Lang Hall 4th Floor
Free and open to the public.
Background: Twenty students from the Netherlands hone their skills in media arts during a 14-day program at Hunter College, sponsored by the Department of Film and Media Studies. They produce documentary shorts or video news stories that will be screened along with student work from the Hunter College Department of Film and Media Studies and the IMA/MFA Integrated Media Arts Program. The students are led by John Driedonks, and Hunter graduate Brian Maston, who earned a Hunter BA in Film (2003) and now teaches as a senior lecturer in Film and Media Studies at the Hogeschool Utrecht University of Applied Sciences.

Screening Schedule:
An Ode to Dolomitenblick – 1:51 min.
By Fleur Born & Layla Bil
a winter meditation – 3:05 min.
By Zoya Baker
S.N.A.I.L. – 1:46 min.
By Fatima Warsame
Coppersky – 4:00 min.
By Hein van den Bogaert
Democratic Phone Bank – 4:00 min.
By Ana Marie Rico
Multicellualrity – 2:38 min.
By Zoya Baker
Convent – 2:18 min.
By Els Anker
May 22, 2012 – 3:54 min.
By Samantha Farinella
VISA – 11:33 min
By Edel Garstad
INTERMISSION (10 min.)
STOP – 1:27 min.
By Job van Ginkel &
Jasmijn Verhulst
Uptown Art – 10:54 min.
By Ciara Rodriguez &
Gabriella Paulino
VLA-DIMIR – 2:47 min.
By Bob Brinkman &
Dionne Marcella
Hindrik Wiekens,
Communist Resistance
Fighter in Gronigen – 4:00 min.
By Iris Verhoeven
Burden – 3:07 min.
By Jasper Kars &
Gernt Doelman
Lullaby – 14:23 min.
By Joaquin Palma
For further information contact David Pavlosky, Program Coordinator, at pav10023@gmail.com