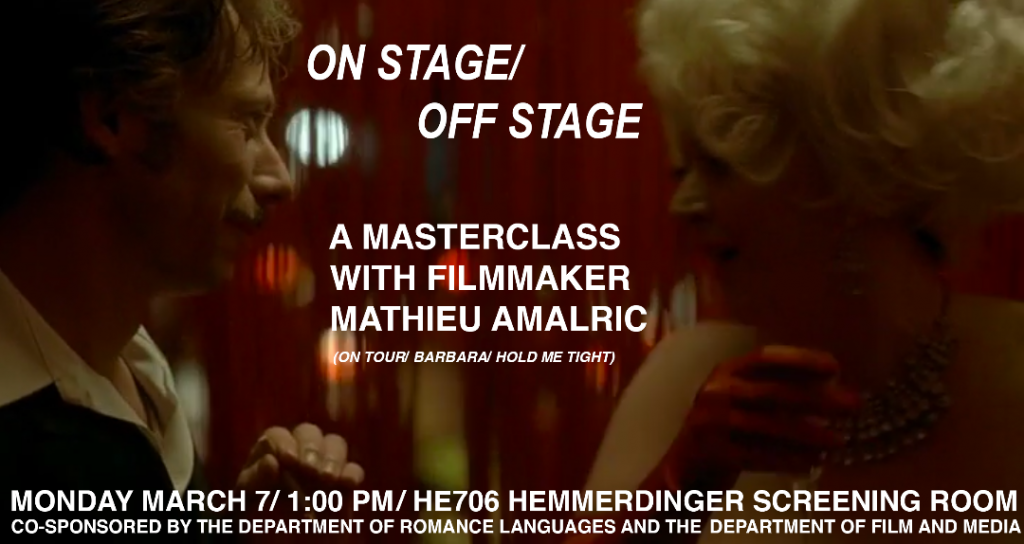 The Film and Media and the Department of Romance Languages proudly presented Mathieu Amalric, in person, for a masterclass discussion of his work on March 7th at Hemmerdinger Screening room. The event was organized by Prof. Sam Diiorio (French Program) with Prof. Ivone Margulies.
Amalric has acted in innumerable films and is a ubiquitous presence in French art and commercial cinema since his debut in Arnaud Depleschin's My Sex Life or how I got into an argument.) Currently filming with Nanni Moretti he has acted in The Diving bell and the Butterfly, Venus in Fur, Quantum Solace, French dispatch, Cosmopolis. He's acted in Alain Resnais's You ain't seen nothing yet, has appeared in the French TV series The Bureau, and most recently in Tralala a musical by the Larrieu Brothers. His films, include On Tour (2010), The Blue Room (2014), Barbara (2017). He also has made multiple films on music and a three-part documentary on musician John Zorn.
Amalric who opened his latest film, Hold me Tight, at The Rendez-vous of French Cinema at the Lincoln Center, shared with Hunter students and faculty his experience as actor and actor-director, his delight on the filming set, the detailed work involved as well as the joys of filmic trouvailles. He heartedly entertained questions and one of the photos below attests to the fun Amalric himself had at the event as clips of On Tour (2010), for which he won the prize of mise-en-scene in Cannes, and Barbara (2017), nominated for multiple awards, were shown, triggering detailed memories and discussion.