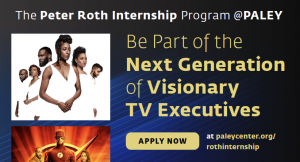 Peter Roth Internship: The Paley Center offers students a comprehensive paid internship that expands upon the institution's long-running accredited internship programs and includes three key components for an unparalleled educational experience.
There are 4 info sessions. Check out the info session flyer (pdf) and rsvp link.
Learn more about the Internship program (pdf). Application form.