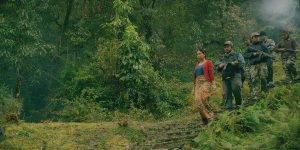 Hunter students, faculty and alumni are invited to a screening and Q&A of the film White Sun by IMA student Deepak Rauyniar tomorrow night!
May 11th 7pm – Lang Auditorium – 4th Floor Hunter North Building. Free – Please RSVP to Natalie: imamfaassistant@gmail.com
Deepak began his graduate studies at Hunter last year soon after completing this film, his second narrative feature and has been juggling his studies at Hunter with traveling to multiple film festivals around the world. Earlier this year, White Sun screened at the MoMA and Lincoln Center as part of the New Directors Film Festival. Deepak was included in NYTimes article, The 9 New Directors You Need to Watch. This is our opportunity to see it here at Hunter and hear about the challenges he faced during production, how he went from script to screen. More about the film here and here.
Deepak Rauniyar was born in Saptari, Nepal. His micro-budget debut feature, Highway,premiered at the 2012 Berlin International Film Festival and was the first Nepali film ever to screen at a major international festival. The
film is credited with starting a new wave of Nepali cinema focused on the reality of post-conflict life in the landlocked nation. His second feature, White Sun, premiered at the 2016 Venice and Toronto Film Festivals to rave reviews calling it "an impressively accomplished second feature" that skillfully explores personal and social frictions in a small mountain village after the civil war. The film won the Interfilm Award at Venice and Silver Screen Award for Best Film at the Singapore International Film Festival, New Voices/New Visions Grand Jury Prize at Palm Spring Film Festival and has screened widely internationally. Rauniyar is an alumnus of the TIFF and Berlinale Talent Lab.