IMA student Cassie Wagler will be screening her work at The Graduate Arts Association at Baruch.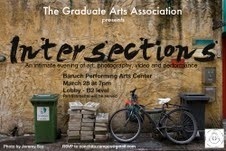 COP SYNC: COP SYNC channels radical politics through the voices of
police officers. These cops were caught in action defending the rights
of Occupy movements across the country. Their motto: To serve and
reflect.
You are cordially invited to an intimate evening of art, video, photography and performances as we explore how art intersects with society and our surroundings. The exhibit will culminate in a reception and short program in the evening, March 28th from 7-9pm. Refreshments will be served. RSVP required.