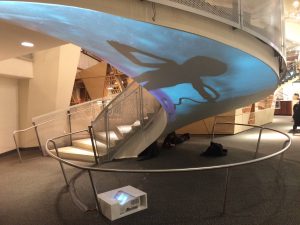 IMA alumna Laura Chipley's collaborative work "Monster in the Closet" is part of ACCESS: ARTIST AND SCIENTIST COLLABORATIONS at the NY Hall of Science. The website also has a video featuring Laura talking about the project.
The project was commissioned by NYSCI as part of the ACCESS project, an initiative that pairs artists with scientists in an effort to make climate research more accessible to museum goers. Laura Chipley worked with Dr. Hannah Zanowski, an oceanographer from Princeton who studies the relationship between the Southern Ocean and climate change.
As part of the project, filmmaker Flora Lichtman documented our artist / scientist collaboration and recorded a series of our conversations about climate change, audience engagement and art.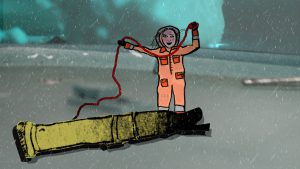 Laura was really excited to also collaborate with three of our wonderful Media and Communications students: Deirdre Bardolf, Reed Surdovel and Julia Sorto. Deirdre, Reed and Julia worked with me in my home studio, meticulously photographing, rotoscoping and hand coloring hundreds of drawings and using Adobe Photoshop, After Effects and DragonFrame to capture and manipulate images. These students each made a significant creative contribution to the aesthetic and content of the film.
Special Thanks to IMA alumna Samara Smith who stepped in as a script editor and to Dr. Ashok Basawapatna (Math/CIS) for his valuable tech advice.
Below you can find more information on the video and the exhibition. If you miss it at NYSCI, you'll have another chance to see it this spring at Milk Studios, near the High Line as part of a collaborative exhibition between NYSCI, the NY Children's Museum and the Meatpacking District (more details coming soon).
If you come on a weekend you'll be allowed to view the film while lying down under the screen (as it's meant to be seen!)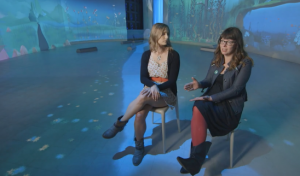 ACCESS: Artist and Scientist Collaborations
The New York Hall of Science
12/10 – 1/28
12/ 27 – 12/31: Screening of Flora Lichtman's accompanying documentary.
Monster in the Closet (10 min)
Directed, filmed & edited by Laura Chipley
Written by Laura Chipley & Hannah Zanowski
One of the most dangerous and unexplored places in the world may hold the answer to humankind's most pressing question: can we sustain our current ways of life without destroying Earth's ability to sustain us? Illustrated using hundreds of drawings created by NYSCI museum goers, MONSTER IN THE CLOSET follows oceanographer Hannah Zanowski on an animated adventure to study the Southern Ocean's vital role in regulating Earth's climate and explore how human activity impacts the furthest reaches of the planet.