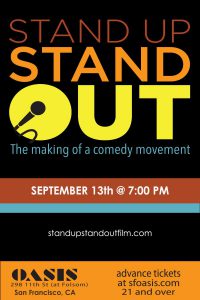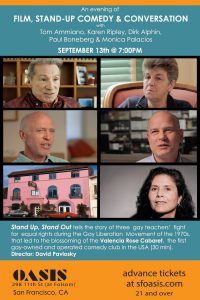 IMA alum David Pavlosky's film Stand Up Stand Out will be screening and Q&A at:
OASIS nightclub in San Francisco
September 13th at 7PM
His documentary will be shown in a special event "An evening of Film, Stand-Up Comedy & Conversation" with Tom Ammiano, Karen Ripley, Dirk Alphin, Paul Boneberg & Monica Palacios. The film covers the history of the Valencia Rose, one of the first gay-owned comedy clubs in the USA. From its origin as the product of three gay teachers during the Gay Liberation Movement in the 1970's, to its activism that surrounded the comedy club during the AIDS crisis in the 1980's. The film will cover the Valencia Rose's performers, along with the activism that they pursued.
Click for tickets