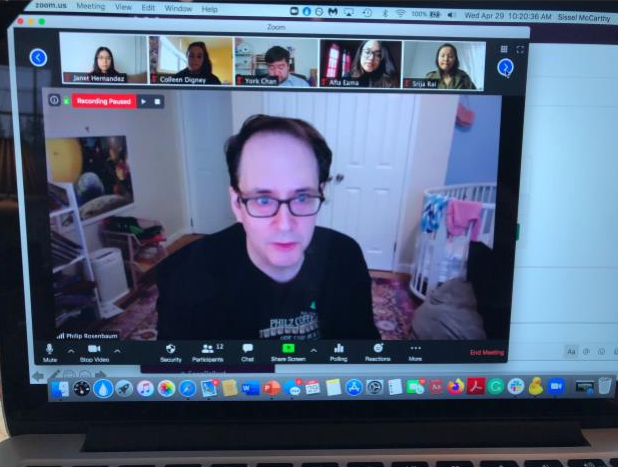 CBS News Producer Phil Rosenbaum has been in the news business more than 30 years, but he never gets tired of telling stories. After nearly 25 years at CNN, he joined CBS Newspath in 2018 and now produces stories for more than 200 network affiliates to use in their local newscasts. "Newspath is like its own news division," says Rosenbaum, who visited Professor Sissel McCarthy's MEDPL Studio News Production class in late April.
Rosenbaum says he's responsible for producing a 1:30 to 1:45 minute news story from start to finish in about 5-1/2 hours. At first, he says it was hard to get used to the pace, but now Rosenbaum relishes it. "Basically, I get to do it all—with this package, I really own a lot it," says Rosenbaum.
The most time-consuming part of his job is finding all the video and then writing the script. Rosenbaum also explained to students why he edits everything in split audio and showed them in real time how to do it on Adobe Premiere Pro (see photo below.) Rosenbaum says this technique allows him to adjust the audio levels of the nat sound, soundbites and voiceover individually and permits a local affiliate reporter or anchor to retrack the story.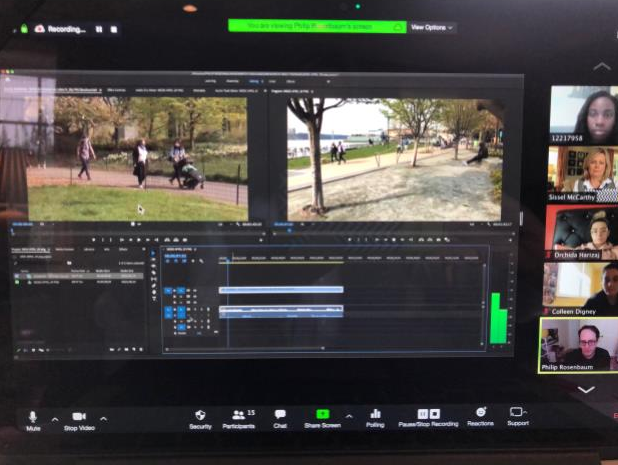 "It's easier to excuse bad video, but if it's bad audio, you won't even watch the piece," says Rosenbaum, who finished up by giving students one last tip. "My advice to you is do lots of internships—make contacts. It's a great field."