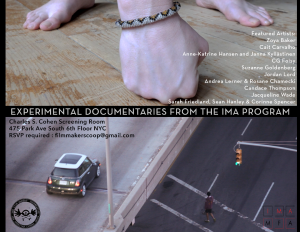 Saturday, December 8th @7: 00 PM
Charles S. Cohen Screening Room
475 Park Ave S. 6th Floor
RSVP required: filmmakerscoop@gmail.com
The Integrated Media Arts MFA Program at Hunter College will be hosting an evening of short film and video work by their students. The event will be free of charge. This event was programmed by Amanda Katz.
Featured artists:
Candace Thompson
Jordan Lord
Cait Carvalho
Anne-Katrine Hansen
Suzanne Goldenberg
Jacqueline Wade
CG Foisy
Andrea Lerner
Sean Hanley
Sarah Friedland