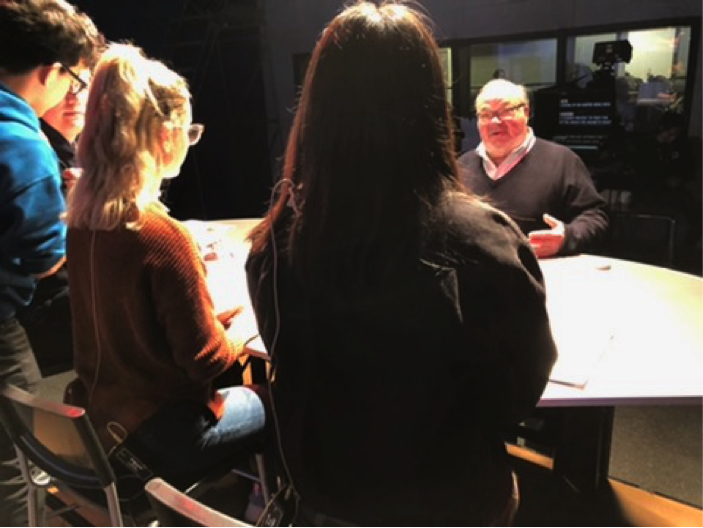 Hunter News Now students honed their anchoring skills last week in preparation for their first newscast on March 11th.
On-air talent coach Lennart Bourin told Prof. Sissel McCarthy's students exactly what he tells the CNN anchors and reporters he now works with: be yourself and own the story. "The most important thing is to be authoritative and natural at the same time," said Bourin, who spent 40 years in the news business as a cameraman, writer, and producer at NBC News, ABC News, Al Jazeera, and Bloomberg TV.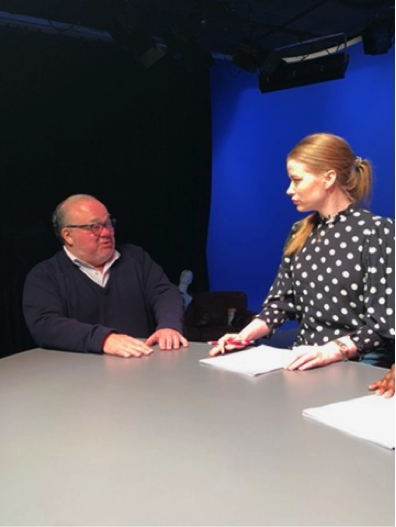 Bourin gave the students some exercise to do if they feel nervous at the anchor desk. He suggests loosening up your body by moving your head, neck, and shoulders in a circular motion and then warming up your voice. " Drinking warm water can help loosen your vocal cords—but stay away from astringents like coffee or tea," Bourin said.
Students took turns reading a practice script from the teleprompter, and most agreed it is a lot harder than it looks. Bourin nodded knowingly and encouraged them to relax and practice. "Like so many things, you need to do it again and again to become a pro," he said.