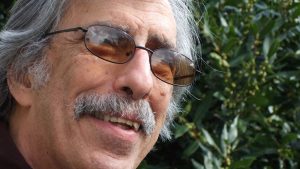 Please join us in celebrating the life of Peter Parisi (1941-2019).
Tues, Nov. 26 | 6:30PM  | RSVP
Lang Hall (HN 424)
Followed by reception at Blackbox (HN 543)
A faculty member in Film and Media at Hunter College for many years, Peter passed away on July 5, 2019.
Peter lived a full life and was known in many ways as a father, a grandfather, a friend, a professor, a journalist, and a lover of animals, music and literature.

Throughout his life, he had a strong and insightful commitment to social justice.
He was the husband of Ida Susser, also on the Hunter faculty, father of Allison Rutledge-Parisi and Elizabeth Parisi and stepfather to Phil and Jonah Kreniske.
We invite you to share with us an evening of memories, music and food. Open to all who knew Peter and would like to celebrate his life with us.
Lang Recital Hall (Hunter North 424)
Reception to Follow in the Blackbox (Hunter North 543)
Questions/Contact: 212.772.4949
Special thanks to President Jennifer J. Raab for supporting this event.
Please note: All outside visitors, please bring an ID to check in through security at the 69th street entrance (between Lexington and Park Avenue).