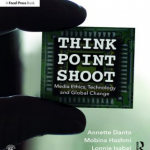 Prof. Tami Gold was one of the contributing authors of the book Think Point Shoot: Is media ethics relevant today? The book party will be hosted by Prof. Linda Stein, Wednesday, October 19, 2016
from 6:00 – 8:00 pm at the Linda Stein Studio (100 Reade Street, Tribeca, Manhattan Between West Broadway & Church St).
Come and meet the co-editors, Annette Danto and Lonnie Isabel, along with contributing
authors: Christine Choy, Tami Gold, Terilyn Shropshire, Yoruba Richen of Think/Point/Shoot.
While the topic of "ethics" dates back to the days of Aristotle, it is still relevant today. Think/Point/Shoot explores media representation of underserved and vulnerable populations; privacy, censorship and surveillance; the blurring of observer and observed in an age of ubiquitous social media; the persistence of stereotypes alongside discourses of post-racial and post-feminist equality; defining and defending the public interest against commercial desires; and continuing to interrogate media strategies of manipulation of truth.