WHERE: The Blackbox Gallery (Room 543), Hunter College North Bldg
Come and Experience Time, Space and History Through Interactive Media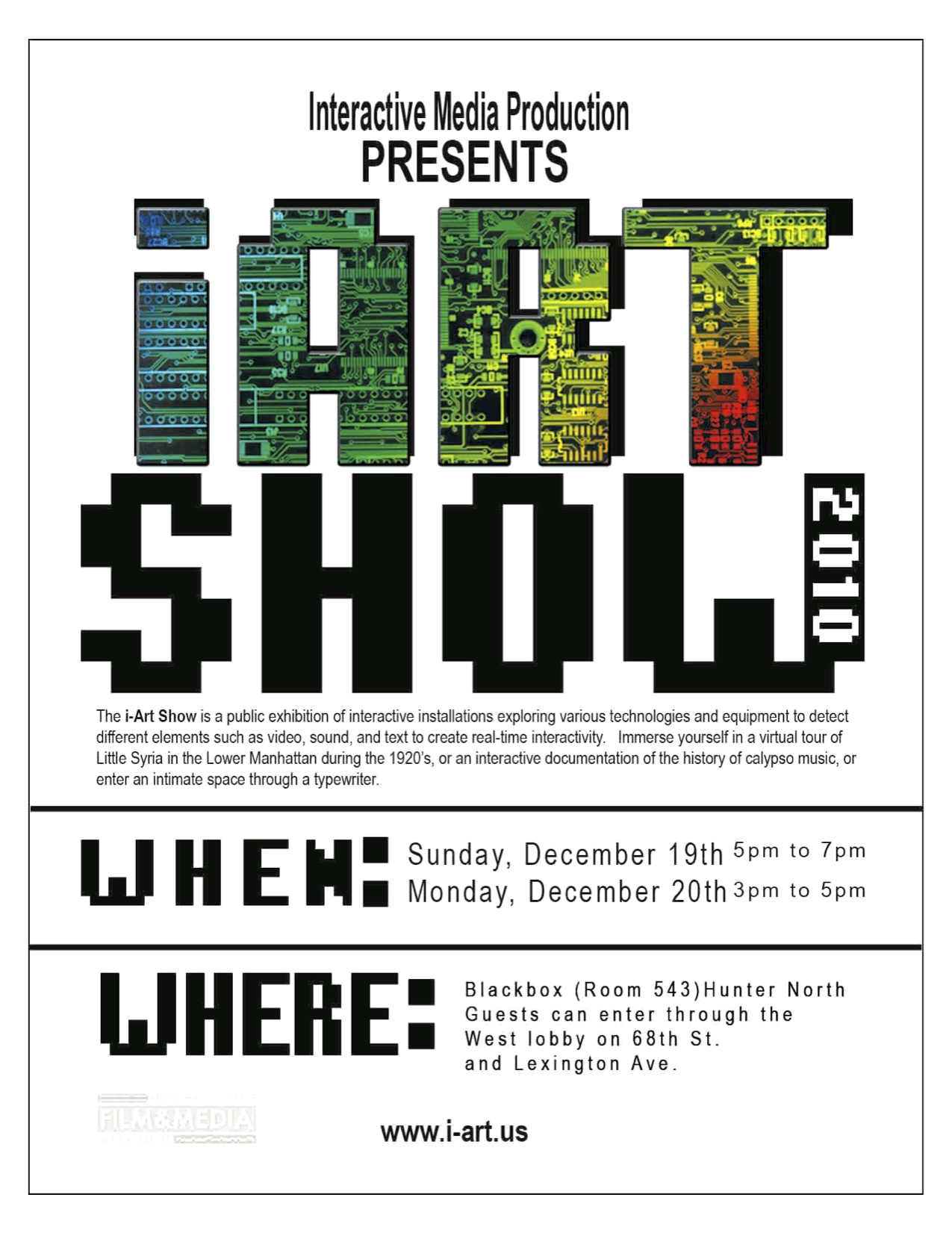 http://i-art.us/
Graduate students at Hunter College will exhibit their interactive art installations in this Fall's i-Art show, which is sure to engage your senses in the exploration of time, history and social issues. The i-Art show is a public exhibition of interactive installations exploring various technologies and equipment to detect different elements such as video, sound, and text to create real-time interactivity. Debuting on December 19th, visitors of the exhibit will experience a variety of projects that will stretch the imagination. Immerse yourself in a virtual tour of Little Syria in the Lower Manhattan during the 1920's, or an interactive documentation of the history of calypso music, or enter an intimate space through a typewriter. These are just a few of the innovative and unique installations that are featured in this Fall's show.

Graduate students created their installations through the Professor Sha Sha Feng's Interactive Media Production course, a hands-on course that focuses on the current state of interactive media in a collaborative environment. Throughout the course, students gain skills in coding concepts, hacking existing technology, and the process for creating interactive media projects. Students applied their learned computer programming and hands-on design skills to create unique interactive art installations that will be on display.
As you make your way through the Blackbox, stimulate your senses through the world of interactive art. Take a tour of Manhattan's Little Syria in "Ireneo Funes" and help contribute to the history of Arab Americans in New York, or journey back and trace the origin of calypso music's history as the first "world music" by audio, photography and images in "Kaiso". Explore green spaces in Bed-Stuy through an interactive map. Visitors will also be invited to experience memory and space through the keys of a typewriter in "Paint It Again", operate a sewing machine to fight unfair labor practices in "The Garment Worker" or participate in an interactive dance showing the ways people of color can get out of poverty in the U.S. in "Erasing Poverty".
For those that can't attend the public exhibit, viewers can watch it streamed live courtesy of "Andy the Robot" on iArt's website (http://i-art.us/), an interactive media piece that was produced through this course. Visitors of this Fall's exhibit are sure to walk away with a unique experience that is both engaging and entertaining.