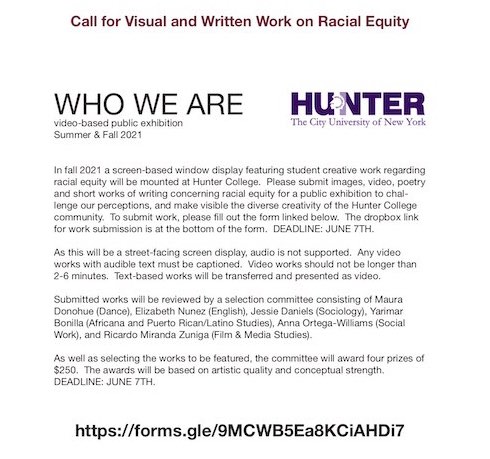 WHO WE ARE video-based public exhibition
Summer & Fall 2021
Submission link: https://forms.gle/9MCWB5Ea8KCiAHDi7
Deadline extended: June 14
In fall 2021 a screen-based window display featuring student creative work regarding racial equity will be mounted at Hunter College. Please submit images, video, poetry and short works of writing concerning racial equity for a public exhibition to challenge our perceptions, and make visible the diverse creativity of the Hunter College community. To submit work, please fill out the form linked below. The dropbox link for work submission is at the bottom of the form. DEADLINE EXTENDED: JUNE 14TH.
Read More