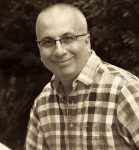 McElhaney, Joe
Office: Hunter North 529
E-mail: joemcel@aol.com
Phone: 212.650.3606
Joe McElhaney is the author of The Death of Classical Cinema: Hitchcock, Lang, Minnelli (SUNY Press, 2006), Albert Maysles (University of Illinois Press, 2009) and the editor of Vincente Minnelli: The Art of Entertainment (Wayne State University Press, 2009) and A Companion to Fritz Lang (Wiley-Blackwell, 2015). His book Luchino Visconti and the Fabric of Cinema is forthcoming from Wayne State University Press.
He is the author of numerous essays in periodicals, including "Discarded Objects: No Sad Songs for Me (La Furia Umana), "Bits of Business: The American Films of Max Ophüls" (Lola), "Howard Hawks: American Gesture" (Journal of Film and Video) and Chris Marker: Primitive Projections (Millennium Film Journal), and in edited volumes, including "A Nagging Physical Discomfort: Fassbinder and Martha," (A Companion to Rainer Werner Fassbinder, Blackwell), "Floating Above the Awful Abyss: Robert Altman's 3 Women" (A Companion to Robert Altman, Blackwell), "Nicholas Ray: The Breadth of Modern Gesture" (Lonely Places, Dangerous Ground, SUNY Press), "Looking for a Path: Fritz Lang and Clash by Night" (A Companion to Fritz Lang, Blackwell), "Red Line 7000: Fatal Disharmonies" (Howard Hawks: New Perspectives, BFI), "The Actor, Framed" (A Companion to Wong Kar-wai, Blackwell), "Alain Resnais, Tsai Ming-liang and the Apartment Plot Musical," (The Apartment Complex, Rutgers), "Rosemary's Baby: Polanski, New York and the Urban Irrational" (The City That Never Sleeps/Rutgers University Press), "Preston Sturges and the Speed of Language" (Cinema and Modernity/Rutgers University Press), Fritz Lang and the Cinema of Tactility (I cinque sensi del cinema/XI Convengon Internazionale sul Cinema), "Hollywood, años cuarenta y cincuenta: transformación del modelo clásico Americano o de cómo Europa toma Hollywood por la furza," for En Tránsito: De Berlin a Hollywood y Alrededors (Las Palmas), "Little Soldiers of the New Frontier: American Movies in 1963" (The 1960s: Themes and Variations/Rutgers University Press) and "Walking a Straight Line: Fassbinder and Martha" (A Companion to Rainer Werner Fassbinder/Blackwell).
His essays on Hitchcock and Minnelli include "Hitchcock and the Tippi Hedren Screen Tests" (Hitchcock Annual), "Like Motion Pictures: Long Take Staging in Bells Are Ringing" (The Long Take: Critical Approaches, Palgrave) "The Object and the Face: Notorious, Bergman and the Close-Up" (Hitchcock: Past and Future/Routledge), "Hitchcock: Metteur-en-Scène" (A Companion to Alfred Hitchcock/Blackwell), "Laughter and Agony in The Long, Long Trailer or: 'Isn't This Fun, Honey?'" (Blackwell's History of American Film/Blackwell) and "Medium-Shot Gestures: Vincente Minnelli and Some Came Running," originally published in 16:9 and reprinted in Vincente Minnelli: The Art of Entertainment.
He has been an invited speaker to such institutions as Stanford University, Yale University, Rutgers University, Goethe University, Columbia University, the University of Kent at Canterbury, the Deutsche Filmmuseum, Anthology Film Archives, the Brooklyn Academy of Music, the Locarno Film Festival, and the Philoctetes Center. He has also served as an interview subject for the Criterion Collection DVD/blu ray of Fritz Lang's Ministry of Fear, for the Warner Brothers DVD of Vincente Minnelli's Some Came Running, for the Olive Films blu-ray/DVD of Nicholas Ray's Johnny Guitar and for the French television documentary Gene Kelly le novateur.
At Hunter College, he regularly teaches courses on camera movement, cinematic space, film acting, the American musical, director courses focused on such figures as Woody Allen, Rainer Werner Fassbinder, Fritz Lang and Vincente Minnelli, and history classes addressing such decades as the 1950s, the 1960s, and the 1980s. He also regularly teaches a close analysis course devoted to Martin Scorsese's The Age of Innocence.
Links to some online publications:
"Frank Borzage: Architect of Ineffable Desires":
http://sensesofcinema.com/2003/great-directors/borzage/
"Paul's Movie: MIXED BLOOD":
http://desistfilm.com/pauls-movie-mixed-blood/
"The Artist and the Killer: Fritz Lang's Cinema of the Hand":
http://www.16-9.dk/2006-06/side11_inenglish.htm
"Lauren Bacall: The Walk":
http://www.thecine-files.com/lauren-bacall-the-walk/
"Terrence Malick: Moving Beyond the Threshold":
http://www.lafuriaumana.it/index.php/archives/34-lfu-10/132-joe-mcelhaney-terrence-malick-moving-beyond-the-threshold