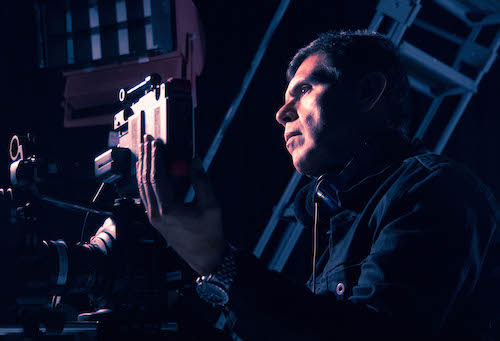 Mercado, Gustavo
Office: Hunter North 472
E-mail: dektarium@hotmail.com
Phone: 212.650.3321

Gustavo Mercado is an award-winning independent filmmaker and author with well over a decade of experience as a writer, director, and cinematographer whose films have screened in national and international film festivals. His short film Sensitive (2002) was the grand prize winner of Showtime's Latino Filmmaker Showcase, after which he also wrote and directed Vespertine (2003) for that network. His feature-length screenplays have also won multiple awards in the University Film & Video Association National Screenwriting Competition, and Empire of Dirt, a screenplay co-written with Mick Hurbis-Cherrier, was a finalist at the prestigious Marfa Film Festival Screenplay Competition. He is also the recipient of the 2020 University Film & Video Association's Teaching Excellence Award.

In 2010 he published The Filmmaker's Eye: Learning (and Breaking) the Rules of Cinematic Composition for Routledge/Focal Press, an analytical and technical study of the essential visual grammar and aesthetics of movies. The Filmmaker's Eye highlights the interrelationships between the narrative function of a given shot composition and the context in which it is presented, stressing the intrinsic connections between the form, content, and narrative function of a filmic image while deconstructing the visual and technical mechanics of its composition. To date, The Filmmaker's Eye has been translated into 9 languages and is a required reading in over 50 colleges and universities in 5 continents. It has also been extensively cited in scholarly journals and books from a wide range of disciplines beyond film studies, and can be found in well over 1,600 library catalogs across the globe. A second edition is slated for publication in 2021.

His second book in The Filmmaker's Eye series, The Language of the Lens: The Power of Lenses and the Expressive Cinematic Image (2019), also for Routledge/Focal Press, uses the same part analytical, part technical approach to explore the narrative implementation of lens techniques through case studies selected from a collection of mainstream, independent, and world cinema. The Language of the Lens is the first and only book that examines lens techniques in this way, giving filmmakers and film scholars a thorough understanding of the various ways story and tonal elements can be expressed through the optical manipulation of six fundamental visual aspects of a cinematic image: space, movement, distortion, flares, focus, and the unique optical characteristics imbued by a given camera lens.The Language of the Lens has already been translated into 5 languages and has received glowing reviews by MovieMaker Magazine ("the nation's leading resource on the art and business of making movies and the world's most widely read independent film magazine."), and Fotogramas ("Spain's first movie magazine"), among others. In addition to these titles, Mercado is writing three more entries in The Filmmaker's Eye series that include books on cinematic lighting, editing techniques, and image systems (the broad, underlying and recurrent visual strategies that filmmakers devise to construct meaning and communicate overarching themes and core ideas in a filmic narrative).

He also contributes articles on cinematography for StudentFilmmakers (a leading filmmaking instruction website), has worked as a cinematography and film production curriculum consultant for Smashcut (an online film education startup), and regularly conducts directing and cinematic composition master classes at Spain's EFTI -Centro Internacional de Fotografía y Cine (one of Europe's leading filmmaking and photography schools).

Mercado currently teaches film production, screenwriting, and cinematography courses in the Film & Media Studies department at Hunter College.