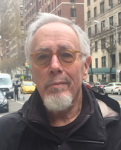 Ewen, Stuart
Office: HN 501-C/Graduate Center Rm 6108
E-mail: drstu@bway.net
Phone: 212.772.4950
Stuart Ewen is Distinguished Professor in the Department of Film & Media Studies at Hunter College, and in the Ph.D. Programs in History, Sociology and American Studies at The CUNY Graduate Center (City University of New York). He is generally considered one of the originators of the field of Media Studies, and his writings have continued to shape debates in the field.
He is the author of a number of influential books, including PR! A Social History of Spin (1996) and All Consuming images: The Politics of Style in Contemporary Culture (1987; 1999). The latter provided the foundation for Bill Moyers' 4-part, Peabody, Emmy, and National Education Association Awards winning PBS series, "The Public Mind." PR! was a finalist for The Financial Times Global Business Book Award in 1997, and provided the basis for a 4-part BBC Television Series, "The Century of the Self."
EwenÕs other books include Captains of Consciousness: Advertising and the Social Roots of the Consumer Culture (1976) and Channels of Desire: Mass /images and the Shaping of American Consciousness (also with Elizabeth Ewen. 1982; 1992). In the spring of 2001, Basic Books published a twenty-fifth anniversary edition of Captains of Consciousness. His writings appear in French, Italian, Spanish, Finnish, German, Norwegian, Russian, Swedish, Korean and Japanese translation. He has recently launched and serves as editor of two online publications: Rejected Letters to the Editor and Stereotype and Society.
His most recent book is Typecasting: On the Arts and Sciences of Human Inequality, co-authored with Elizabeth Ewen (2006). Through a series of illustrative, historically situated vignettes, Typecasting presents an incremental interpretation of modern stereotyping through the interwoven fabrics of art, science, religion and popular culture.
In June 2006, Ewen was invited to serve as lead instructor and Senior Specialist at the Russian Fulbright Foundation Summer School sponsored by Moscow State University and St. Petersburg State University. In St. Petersburg, he taught the first course on the history of American consumer culture to be offered in the former Soviet Union.
He lectures frequently at universities, museums and arts and community centers, both nationally and internationally. Among upcoming engagements, Ewen will be the keynote speaker at major international conferences in Glasgow, Scotland, Sao Paolo, Brazil, and Barcelona, Spain in the fall of 2007. He will be teaching a week-long course in media history at Moscow State University (Russian Federation) in the spring of 2008.
He is Consulting Editor of Pensar la Publicidad, a new international Spanish language journal published in Madrid. He is also on the editorial board of the Advertising & Society Review, a journal published by the Advertising Education Foundation and Johns Hopkins University Press. In honor of his role in the founding of Media Studies, EwenÕs autobiographical reverie, "Memoirs of a Commodity Fetishist," was featured as the "Scholarly Milestone Essay" in the journal, Mass Communication and Society, in 2001.
Under the nom de plume Archie Bishop, Ewen has worked as a photographer, pamphleteer, graphic artist, multimedia prankster, and political situationist for nearly thirty years. His work has been exhibited internationally. In 2003-2004, BishopÕs work was part of a traveling international exhibit, ÒToxic Landscapes,Ó funded by the Puffin Foundation, and was also featured in ÒTactical Action,Ó an exhibit at the Gigantic Art Space in Tribeca, New York.