Year: 2018
IMA alum Jonas Pariente's Meatballs Couscous from his web-series Grandma's Project has been selected to screen be HotDocs in Toronto May 2-5.
Congrats to Prof. Karen Hunter! SiriusXM Satellite Radio Host Karen Hunter named recipient of the TALKERS 2018 Freedom of Speech Award
The TALKERS editorial board announced (4/13) that SiriusXM Satellite Radio host Karen Hunter has been named the 2018 recipient of the publication's prestigious Freedom of Speech Award. Hunter hosts the "Karen Hunter Show" daily between 3:00 pm and 6:00 pm on the Urban View channel in which she discusses politics, public policy, and contemporary culture taking listener calls and interviewing guests. The Urban Channel is billed as "African American talk… focusing on politics, race and social justice." Read More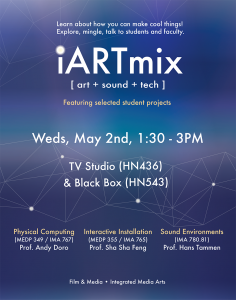 Drop by and experience student work in web, sound, art and technology!
Weds, May 2nd
1:30-3PM (Free and open to the public)
TV Studio (HN436) & Blackbox (HN543)
facebook event link
Featuring student work from:
Physical Computing · Interactive Art Installation · Sound Environments